The streets of island towns will be curved. Imagine a small village, a soaring cathedral, canals, or sky cities on stilts. Step by step. Nothing to achieve. There is no gameplay at all. You are simply surrounded by beautiful scenery. Nothing more, nothing less. We hope that you enjoy our experiment. Not an online game, but a fun and entertaining toy. Choosing colors from the palette, navigating blocks, arches, stairs, bridges, and lush backyards are automatically produced by Townscaper's underlying algorithm.
Coastal towns can be built instantly in Townscaper. From a blank canvas of sea and sky, you can build a colorful town with a few mouse clicks. An unimpressive building game reminiscent of a toy, it has no real objective and no gameplay at all. There is nothing more to it than creating building after building.
The simplicity and beauty of it
It takes a lot of practice to master user-generated content games. Before players can begin building, Dreams requires them to complete a set of tutorials. In contrast, Roblox's creation of worlds often requires a scripting knowledge. Townscaper, on the other hand, is an easy-to-use game.
Blue skies and a vast empty sea greet you in the beginning of the game. This is the canvas on which you build your town. If you click on the water for the first time, the foundation for your first house will be built. Clicking on the same location for the second time will build the house. Three more clicks will raise the structure. You can pick colors to decorate your town.
A hidden algorithm handles the details of the house the player is building, so players shouldn't worry about them. While you play, you can build arches, terraces, and bridges. If you enclose areas, gardens will be added. A ladder can be used to descend the water, and a clothesline is provided between the buildings. There are a lot of randomized details in the town you make, but they make it come alive. The right click will allow you to destroy a building if you do not like it.
Customizations could be used
There is no need to perform any other actions in this simulation game besides building your town. It's not like The Sims 4, in which you can see how people are doing and set goals; it's not like Animal Crossing, in which you can interact with friends. Although there are a number of small details that make the game hyper lively-e.g., seagulls on roofs, tiny Wellington boots on doorsteps, mailboxes-they don't affect gameplay at all.
Although the game provides many creative options, it could use a few more customization options. One example is that circular buildings cannot be built. It is not possible to build a house with different-shaped blocks. It is also lacking in transportation options, such as trains and cars. There are also a lot of curves. Considering the fact that the game offers so many creative opportunities, these lapses can be a bit frustrating.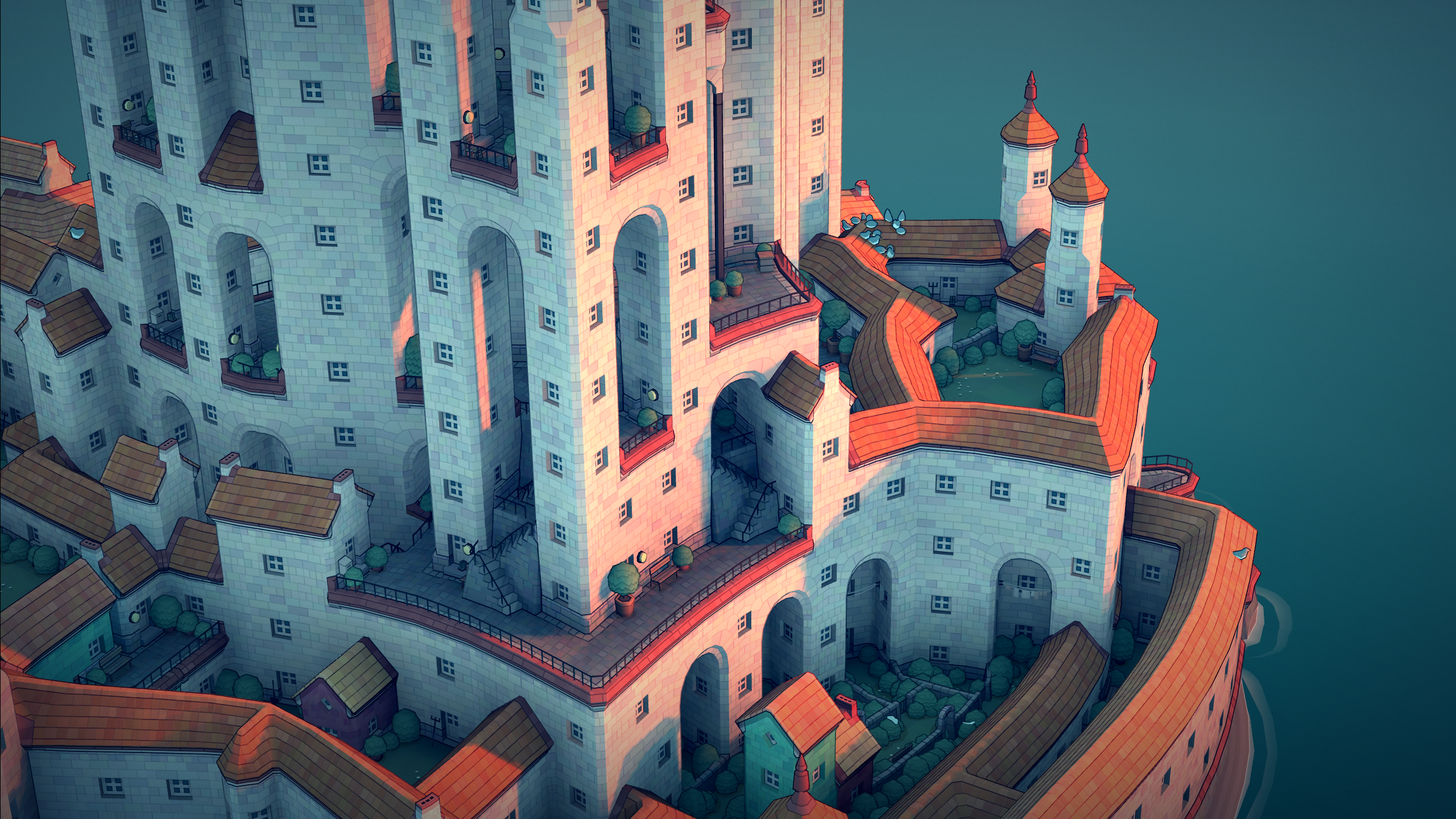 Feel free to be creative
Zen-like experiences are provided by Townscaper to its players. In spite of the simplicity of the gameplay, you can explore a wide variety of creative possibilities. There are also no deadlines for completing the game, so you can take your time. Despite some customization options that could make a town more personalized, it is nonetheless a game that speaks to your creative side.
Download and Installation Process
To download Townscaper APK you have to tap on the given download button.
Your download will begin shortly after tapping.
Now you have to turn on the Unknown Sources setting in your Android phone. (This is a program made by Android that protects your Android device from unauthorized apps and malware that can harm your device.)
Turn on your device Unknown setting requires you to go to Settings-Security-Unknown sources and turn it on.
Then go to your file manager or download area where your downloaded files are and tap on Townscaper APK file.
After tapping the install option will appear on the screen where you have to tap again the installation will start and it will be completed in some time.
Now you can run the application and enjoy its great features.
Pros are:
The application can be downloaded for free from Apklands.com with just a tap on the download button. The application version can be selected and downloaded according to your needs. For most versions, you can download the app archive.
The app can be downloaded quickly without waiting for a review like in the play store. As the file is downloaded, it becomes part of your device's memory, so you can install it multiple times without downloading it.
Cons are:
Third-party applications are usually not checked by Google, as they are usually downloaded from third parties. In this case, your phone may get damaged. In most cases, third-party applications contain an APK file that contains a virus that can damage devices or steal data.
This is a dangerous situation, so be careful. For most apps, you won't be able to update them automatically because the Google Play Store isn't available for them.
Where can I download Townscaper APK?
If you are interested click on the button above to download the app. APK files are found in the "Downloads" section of your browser. Before installing the app, your phone must be allowed to run third-party apps.
As mentioned below, the steps required to achieve this are mostly the same. Activate the Unknown Sources option in the Security option in Settings and your phone will be able to install apps from sources other than the Google Play Store.
After completing the above steps you can click "Download" in your browser to download the information. After you give permission, the installation will start. After installation, the application can be launched normally.
FAQ's
Q. Is Townscaper APK available on Android for free?
Ans. Yes! It can be downloaded for free for Android. ApkLands provides all apps completely free for its users and you can download apps easily from here.
Q. Is Townscaper APK file free from security threats?
Ans. Every security threat has been dealt with. Furthermore, no bugs or glitches are present in this game. here we provide a 100% safe and secure app that will not harm your device and run smoothly.
Q. What about the advertisements?
Ans. This latest version of the game is free from all types of annoying advertisements.
Conclusion
This is the latest version of Townscaper APK which is the best in her category. You can easily run this app on your device without any interruption from your friends. It is a 100% safe app for Android devices tested so don't worry, This Apk has already been tested. Download, play and share this app with your friends and family.
Users Review
User 1: The app is very exciting, with graphics and soundtrack, and user interface. I like its beautiful atmosphere which makes it easy to use.
User 2: The graphics quality is very good, the background music is good, the user interface is fluid, the gameplay is varied, and the game is good for whatever theme we bring as a theme. Some of the things that generate interest in this title are all the skins and accessories that each character has.
User 3: The character design and gameplay of the game are very good, the music is also good, some costumes are also provided for free in the games, the disadvantage is that the costumes are very expensive.